Can Acupuncture Help You?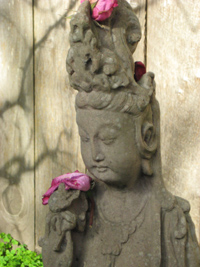 "If you die before 120, you die too young." -Taoist saying
The United Nations World Health Organization (WHO) has done extensive research to determine the effectiveness of acupuncture. Here's a partial list of symptoms they've found to be positively affected by acupuncture. In addition, WHO confirmed acupuncture's efficacy in treating psychological disorders (see "Emotional and Spiritual Unease").
Musculoskeletal
Whiplash
Repetitive Stress
Pain (Back, Shoulder, Knee…)
Arthritis
Carpal Tunnel
Tennis Elbow
Acute and Chronic Numbness and Pain

Gastrointestinal
Duodenal Ulcer
Diarrhea
Constipation
Irritable Bowel
General Well Being
Immune system deficiency
Chronic fatigue
Insomnia
Increased Energy / Chi
Skin ↑ Top
Acne
Psoriasis
Scar reduction

Urogenital
Incontinence
Urinary Tract Infection (UTI)

Ob/Gyn
Herpes
Menstrual Disorders (PMS, cramping, hot flashes..)
Pregnancy Disorders (morning sickness, back pain, emotional swings)
Infertility (Men & Women)
Erectile Dysfunction

Circulatory ↑ Top
Anemia
Hypertension
Cold Hands and Feet

Respiratory
Asthma
Allergies
Bronchitis
Common Cold
Flu

Neurological
Acute and Chronic Numbness and Pain
Headache
Insomnia
Sciatica
Tremors & Tics
Numbness
Chronic Fatigue
Post Stroke
Paralysis

Eye/Ear/Nose/Throat ↑ Top
Toothache
Tinnitis
Conjunctivitis
TMJ
Conjunctivitis

Mental and Emotional
Addiction Control
Anxiety
Stress
Depression
Immune System Defeciency
Mental Well Being
Oriental Medicine does not put emphasis on symptoms alone. Rather it strives to understand the underlying imbalance. By addressing the root imbalance many seemingly unrelated, symptoms are alleviated. If you have a condition not on the list...ask me!
Emotional and Spiritual Unease
Classical Five Element Acupuncture recognizes that a person's well being is not limited to just their physical health. Our emotional and spiritual well being are equally important. When we are ill, all levels of our being are affected. Physical illness can cause emotional distress: someone with unrelenting migraines may appear as angry all the time. Emotional problems can cause physical disturbance: someone who is always depressed doesn't want to go out and socialize, never exercises, eats poor food resulting in atrophied muscles, digestive problems… People may come to me complaining that they often feel frustrated or angry. They have difficulty making decisions. Some find themselves obsessively planning all the time. … Others may feel like they don't belong, or that they aren't loved, or are stuck. They may even develop eating disorders to cope. … Someone else may feel depressed, complain about always crying, or never feel acknowledged. … Another person may be too afraid to try anything new, scared to be anything but the wallflower he feels safe being. … There's also the office clown, the life of the party, the one who can't sleep because she's often anxious or maybe just too excited. My intention is to work with my patients with an understanding that all aspects of their present condition are there for a reason; and to love them fully, exactly how they are; while at the same time working with them to bring about physical, emotional, and spiritual well being.
Who Does Acupuncture Help?
Everyone.
Children are quick to re-balance. I may not need to use needles since they are so sensitive. So far my youngest patient has been 3 (if we don't count in vitro.) I have particular passion to help younger people not waste their lives in the adolescent dip, when hormones and emotions can cause them to retreat or act out, losing precious time for exploration and growth.
Acute or chronic disease is treatable by Chinese Medicine. Depending on how willing a patient is to making lifestyle changes will determine how quickly the changes come, particularly to a chronic disorder. In China, doctors are most busy during the later summer, when people come in getting ready for the cold and flu season. They are a nation that understands the value of preventative medicine. The pulses (one for each of the twelve meridians) can reveal an imbalance before any symptoms appear.
Lastly, even the skeptic is treatable. The balancing will occur whether the patient believes in the medicine or not.